The BIG THANK YOU from We Care for Humanity and Maria Amor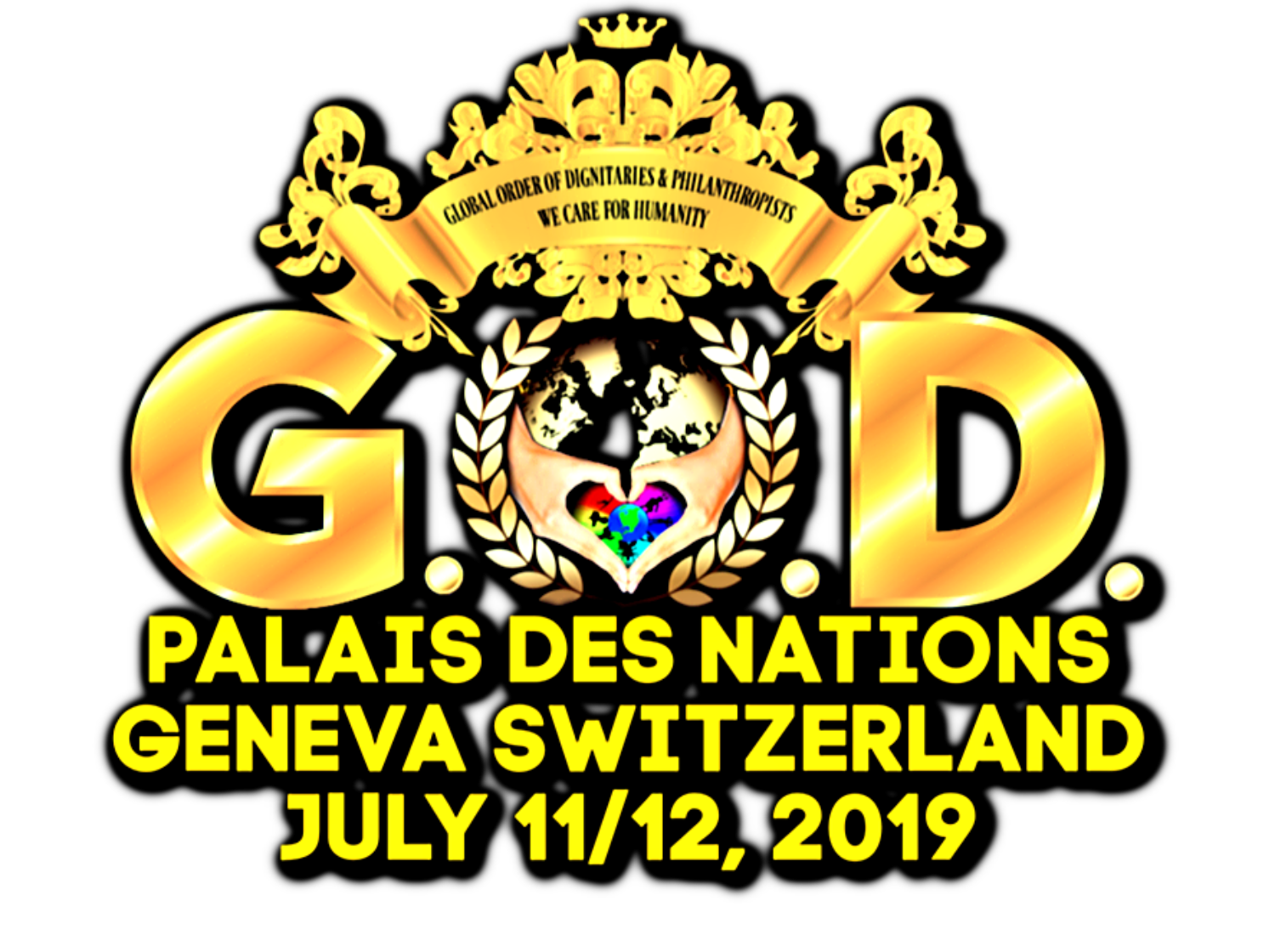 Dear G.O.D.s and Philanthropists:
The beauty of humanitarianism is the ability to be explosive and internationally thought provoking. Independent from subtility and grand gestures, it is the message behind it which frames the impact.
During the duration of three days, honorees, speakers and ambassadors were collected onto one stage at the united nations of Genève to fight for a worldwide mission, the preservation of this planet. In particular WCH cornerstone of "Sustainable Humanitarianism" was underscored and emphasized as a means of aiding the achievement of the United Nations 2030 agenda.
Every year there are larger projects, and goals that surmount the biggest of mountains. And for each year our philanthropic machine seamlessly increases the altitude of the trek we must gruelingly overcome for the benefit of the international community.
This could not have been done without the leap of faith my distinguished guest, volunteers, speakers and organizers had with We Care for Humanity.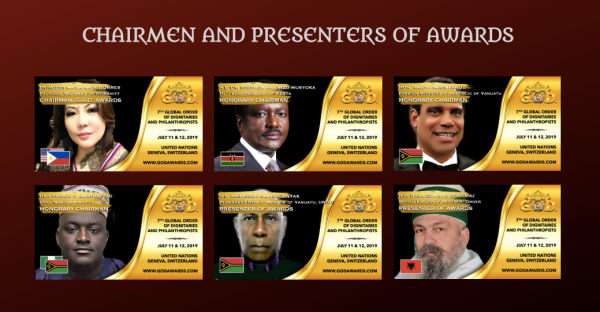 HRH Prince F. Olorunfemi of Nigeria and Vanuatu, CEO of Mines and Vaults: First and foremost, my deepest apologies. Since we met my prince, you have been keen in being discreet and anonymous with your philanthropic endeavors. This year I had to break tradition and honor an individual whom gave us the support and ferocity to take step forwards to the Palais des Nations.
HH Baba Edmond Brahimaj: Your compassion and humility reverberate as the voice of those that are weary and hopeful. You made sure the less fortunate were not alone in their fight. There is no accolade in this world worthy of giving to such an altruistic person, yet you tirelessly support the organization by being one of our biggest supporter and inspiration for half a decade. Thank you
Honorable Foreign Minister of Vanuatu Ralph Ragenvanu, His Excellency Vanuatu UN Ambassador Sumbue Antas and Deputy Ambassador Noah Patrick Kouback: Understandably there was much risk involved with such a venture of being our host. Exactly what is WCH, why jeopardize the credibility of a fresh mission in supporting an organization obscure in Oceania. The answer is simple, we care for humanity. The passion we have to protect and aid nations who have been devastated by turbulent unprecedented and human perpetuated catastrophes resonated strongly with your own. The intrinsic energy both our respected organizations had resonated strongly to create one of the most successful Summit and subsequent G.O.D awards up to date. Thank you for your faith and may we continue to collaborate in the future.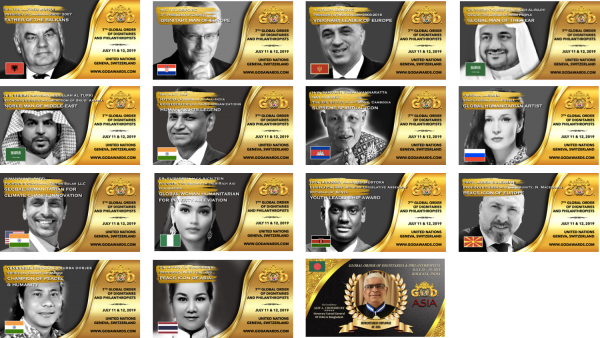 H.E. Dr. Alfred Moisiu, H.E. Ivo Josipovic, H.E. Filip Vujanovic: My distinguished Presidents, your compassion for change and transparency honed an amalgamation of talented skills at the United Nations. In a time in which every move is dissected and scrutinized, with elegance, courage and without hesitation supported WCH cause for a better tomorrow. I am deeply humbled and forever grateful as your intuition for what is credible and impactful is unparalleled.
H.H. Samdach Preah Vanaratta Nay Chroek: Regardless of the obstacle, the greatest dreamers are those willing to face the most arduous obstacles to transform their dreams into a reality. Your Holiness, your enthusiasm, compassion and message of oneness is a true testament of why the pen is mightier than the sword, why good would always surmount evil.
H.E. Dr. Sheikh Yousef Bin Saleh Al-Rahji and H.E. Sheikh Mohsen Abdullah Al Turki: Your excellency, your call for the million stateless persons who have been denied citizenship and basic rights such as education, health care, work and freedom of movement was powerful and stroke a chord at the UNOG. For millions of people who have been displaced from their homes and outcasted by society, you made their voice clear. My mission for the remainder of this year is develop projects to cater to the aid of refugees outcasted and forgotten by society. Thank you for reminding the world.
Mr. Himanshu Patel, Nanda Bhagi: Humbleness, ingenuity and attention for humanity is synonymous with the triton solar brand and those who represent it. With every obstacle met that could have impeded success of the summit and consequent G.O.D awards Triton Solar went above and beyond. This is something unprecedented, and the start of a beautiful friendship and team for the continuity of our only home, earth. I am forever in your gratitude.
Honorable Kennedy Kalonzo Musyoka: Your passion, conviction, and courage are unquestionable. From start to finish you were there championing the event and empowering those in attendance. A member of parliament of a colorfully diverse, richly cultured and persevering nation, you have always marched towards your dream to become a transformative and dynamic model, for the sake of fellow Kenya and now the world. Thank you
Dr. Udit Raj: The many programs in India you created to support the downtrodden and outcasted along with your passion cannot be contained. Your enthusiasm is contagious, I am forever in your debt my friend for pushing WCH to impact more people for the embitterment of this planet.
Dr. Elizabeth Jack Rich-Tein: I am always personally inspired when I see women of your philanthropic caliber taking initiative to change the world. Your career thus far has shown an incredible young lady with an ambition for the preservation of this planet that refuses to be squelched.
Venerable Rinpoche Phurba Dorjee: You break tradition of being a spiritual guru. Your business acumen and philanthropic prowess give many children and youth in Nepal and India more opportunities to have better future, better lives. Everyone recognizes a big brother in you and so do I, thank you for your support through and through.
Dr. Aphinita Chaichana: You only not hold the torch of Peace in Asia but you are a symbol of humility and camaraderie. Everyone is drawn to your humbleness; you make them feel respected and appreciated. I am happy you lead the organization that I truly care about, more than my own life, in Thailand and I look forward to seeing the progress of it under your leadership.
Professor Arben Sulejmani: You are a real partner and a brother front and back. You answer to my call whenever there is an urgency. You are known as a life saver on top of being a Peace Messenger of Europe. Thank you "bebush" and I look forward to convening the G.O.D. Europe with you and the Bektashi Order in Albania.
Evgenia Laguna: The Concert for Humanity has reached its highest pitch because of your dynamic performance. We were in awe for two lovely evenings and privileged to be serenaded by the Space Opera Diva who thrills her high notes as high as she cares for the children. Our deepest and most entertained gratitude to our diva!
Hon. Councilor Wendy Meikle, Dr. Nii Kotei Dzani, Dr. Kemal Aydin, Adewale Adebajo, Eniola Badmus, Ven. Naw Kham La Dhammasami, Jyotika Jalani, Dr. Ruby Bakshi Khurdi, Dr. Hanan Marie, Dr. Emine Akin, Hon. Asif Chowdhury and Illustrious guests: You honored us with your presence and contributions, thank you for gracing the 7th G.O.D. Awards and WCH Humanitarian Summit. We hope that you keep us in your hearts, and you continue to support our causes and mission for the benefit of humanity.
Her Highness Princess Souma Sisowath, Gennady Tkachenko Papizh, Allan Landry and Alice Boubour: Lending your undeniably sought-after talents and skills to WCH is such a noble thing to do. In spite of your very hectic schedules, you found time to give and care for the benefit of humanity. I personally admire each and every one of you for using your God-gifted ability to uplifts those in need.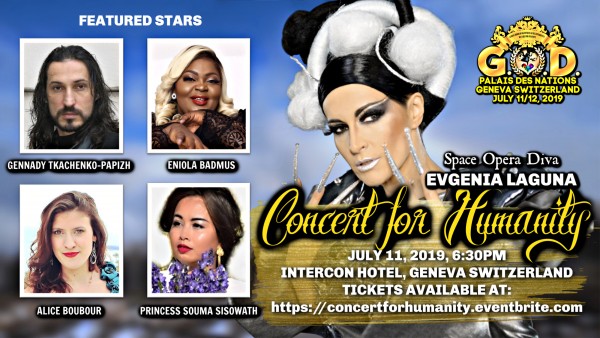 Bishop Joy Theriot: WCH is blessed to have you as our Vice President for UN Affairs. I don't think the G.O.D. will survive without your sincere commitment to WCH. It shows in every task you do. It shows in the outcome of the 7th G.O.D. I was able to pull the wagon because you were behind pushing it. You gave me the lift and push I needed. Thank you and I love you.
Jo Moran: I believe no one can match what you have done and still doing for WCH. You belong to the core team not only because of your ability to write and think but because you are genuinely a good humanitarian. I see myself in you that is why I have high expectations of you. You are a leader in the making. However, as a big sister, I will impart this phrase to you: "when the student is ready, the right teacher will appear".
Maureen Brindle: Ever since you started writing poems for WCH, our organization has never been the same. It became more diverse, established and cultural, something a true organization should be. WCH made marks in literary and arts because of your wonderful contributions. You are our forever Official Poet and together we will add colors and rainbows to the world.
To the G.O.D. Representatives, Mr. Tariq Al Farrah, Mr. Wahab Al Farouk and Mr. Uwe Zirbes: Your influence and connections world-wide has come a long way. As a result, we have successfully fundraised for the medical needs and restoration of hospitals of Vanuatu. Please accept my profound thanks to all of you.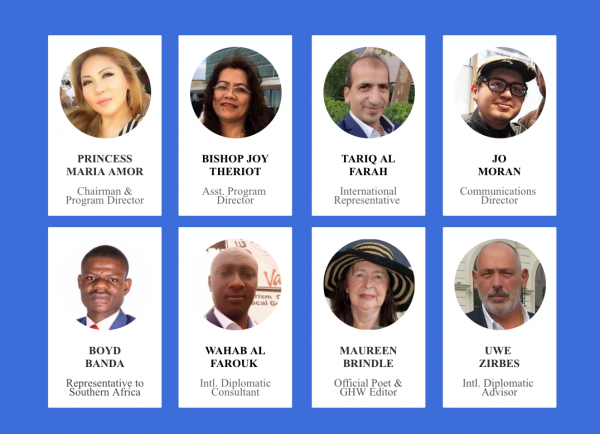 To all the Volunteers: You are the backbone of any organization. Be proud to call yourself a volunteer. Our sincerest gratitude to all of you especially the Geneva Volunteers who extended help and support on the last minute. We hope that we will continue our relationships and more collaborations in the future.
And lastly, a note to myself: You deserve a tap on the shoulder for not giving-up. For weathering the obstacles and fighting for what you believe in, no matter what. For never forgetting that the G.O.D. is never about you and is bigger than anything you have done because it belongs to the true owner of this platform, the humanity. You don't need a thank you but a constant reminder that you will not stop fostering the G.O.D. until the ratio of humanitarians and the needy is 1:1.
With love for humanity,
Media Contact
Company Name: WE CARE FOR HUMANITY
Contact Person: WCH Admin
Email: Send Email
Phone: 8185145756
Country: United States
Website: http://www.godawards.com